BET4VET Mobility 2019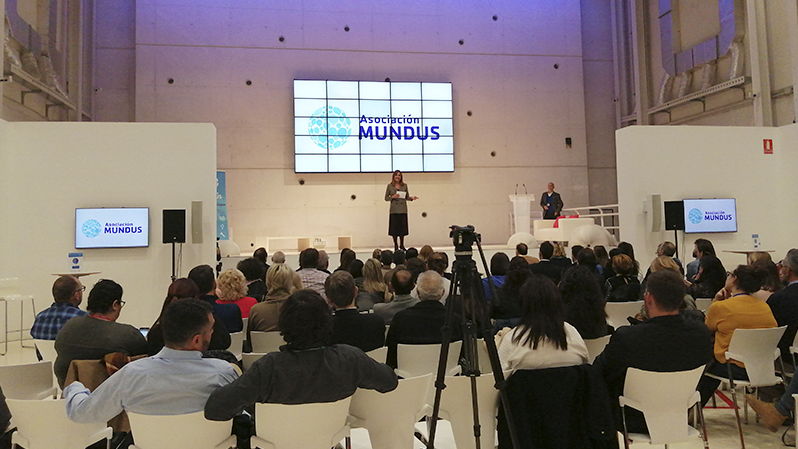 From 20th to 21th November 2019 an important celebration for European mobility took place in Zaragoza. Our event Bet4Vet hosted our European partners and local companies. It aimed to bring together companies from our city with European agents working in the field of VET Studies who every year bring students to Zaragoza in order to carry out professional traineeships at local companies.
European partners, local companies and all members of the Mundus' team enjoyed a couple of days full of enthusiasm, planning future ways to improve VET mobility across Europe. The final aim is that more and more companies are interested in hosting VET students from abroad, so as to expand the lifechanging experience of doing traineeship abroad.
---


19th November was the "Day Zero". We were glad and excited to welcome all of our international partners from different countries all around Europe.
The arrival was an easy and dynamic moment: a lot of our partners stayed resting at the hotel for the first night, but another group started up visiting Zaragoza with Mundus' staff. There is nothing better than a local guide who explains the most emblematic places! They really wanted to know, as soon as they arrived in the city, our customs and gastronomy. And they got to know it quickly!

20th November. Oh my God! We waited a lot for this day and it finally it became real!
Our happiness could be seen from miles away, and a funny nervousness was taking over the whole team. Part of the Mundus' staff went to pick up the group at the hotel, while the rest were preparing the last details at the Joaquín Roncal Center, where the meeting started with all the European partners.
During the first session, both the European partners and Mundus' team got the chance to introduce themselves. The morning was full of activities focused on getting to know each other. In this first part of the event, our colleagues Quique, Bea, Abril and Arantxa explained the audience about Mundus history and features, its main areas of action and how all the departments are settled. Undoubtedly, it was a good moment to "break the ice" and start to relax.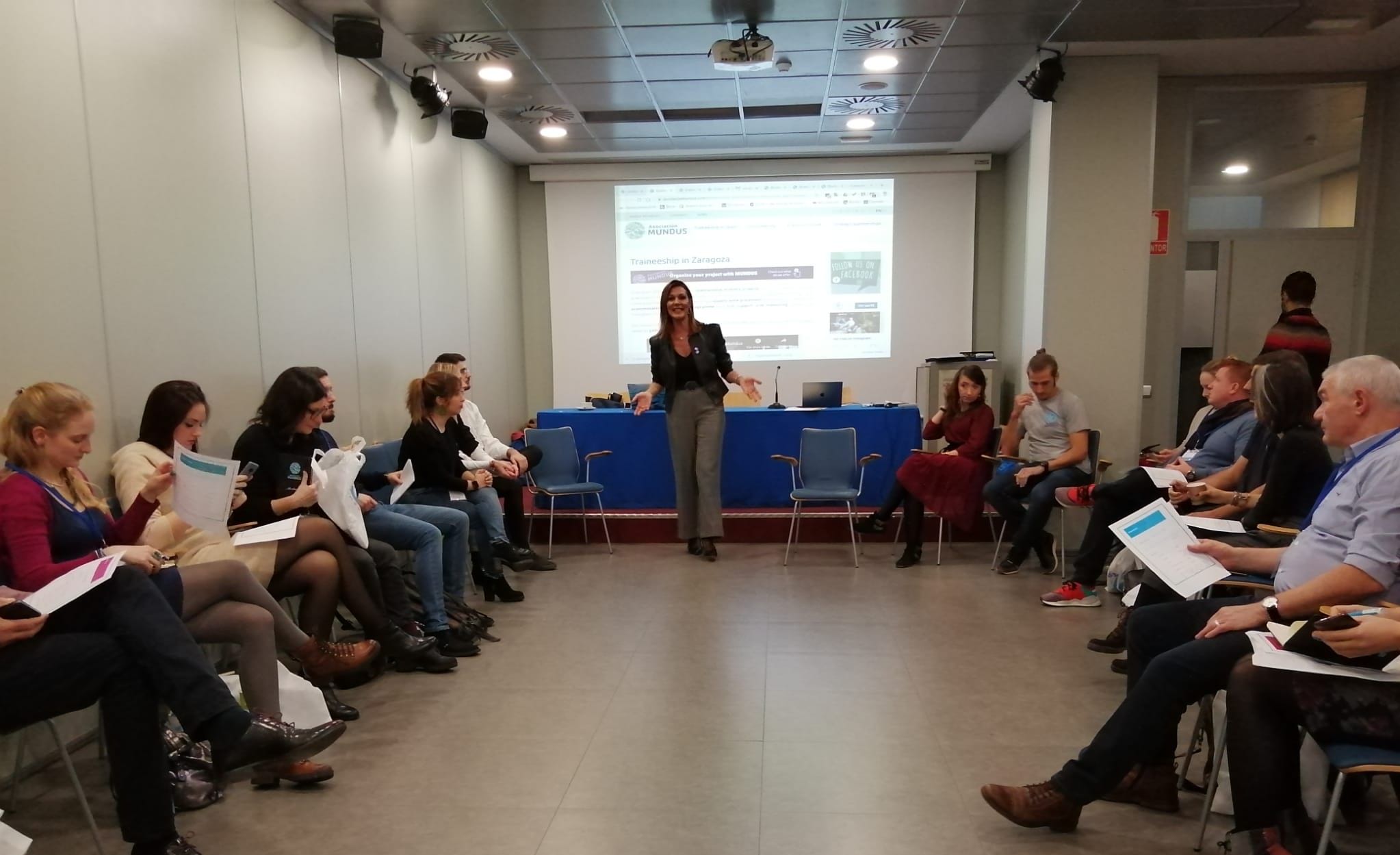 #Bet4Vet 20th November. Introduction session.
The second part of the morning started after a coffee break, where we drank and ate fair trade local products. We visited the accommodations where European students stay while doing their internships. It was a very special moment for our international partners to see where their students will live in Zaragoza.
After this morning full of emotions, discoveries and visits, it was time for tasting some typical Spanish cuisine. During lunch, we understood how many things we share together between Europeans. Not only related to the way we approach international mobility for learning purposes, but also about common customs and features across countries.
In the afternoon, we visited the city of Zaragoza, and there is no doubt everyone enjoyed the moment. One of the most astonishing scenes for our European partners was the view of the iconic Basílica del Pilar from the famous stone bridge. It was compulsory to take a group picture to freeze that memorable moment! This city is marked by a wonderful history, significant architecture and delicious cuisine and it is more than willing to too much to give to Europe.
After the tour, we went to the hotel to rest a bit and prepare for the night. A traditional Spanish dinner was a duty to create an informal atmosphere for wrapping up the first day of BET4VET. What a wonderful night!

21th November. The initial groups started to get closer and more confident. Our European partners had the opportunity to visit different companies in Zaragoza. During these visits, they could feel the atmosphere in the companies where their students spend most of their time while performing their internship period.
By this time, something important came up: When you work with youngsters, you become like their parent as you send in a foreign country to do an internship. For a lot of them, it is the first experience abroad and it could be a challenge, an experience that changes their lives and also a key moment in life, both personal and professional. It is very important for us that our partners – more likely to be called friends than partners, actually - to know that every person who come to Zaragoza to live this international experience will be in the best conditions.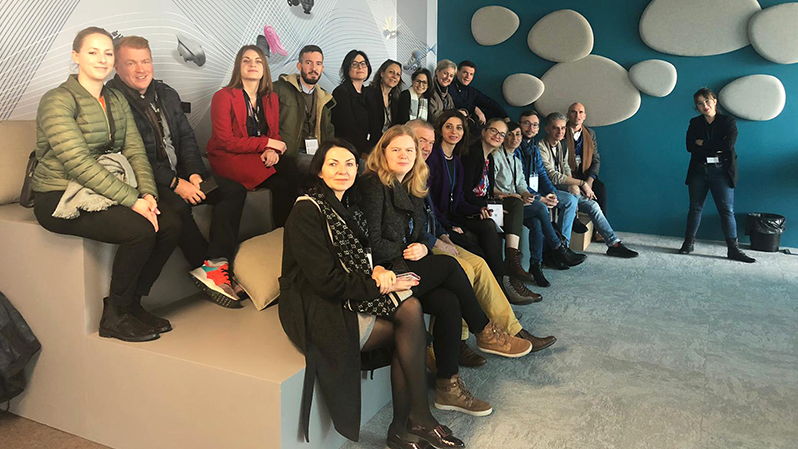 #Bet4Vet 21st November. Visiting local companies.
After a lunch in a typical spot in the center of Zaragoza, we had the opportunity to visit Palacio de la Aljafería, a unique and very famous site in the city. Meanwhile, Mundus'team were at a public local center called "La Azucarera", to finish the last details and few things that remained to be done. What a tension and what an enthusiasm we had by that moment! We wanted to do everything not only right, but perfect!
Some time later, everything was ready! The awards were on the table, the setlist was clear for everyone, and the microphones were switched on. Our guests started to come in and our colleague Bea, as the master of ceremonies, started out the event.
First, there was a video introducing all the activities that the students usually do in Zaragoza. After that exciting moment, we did one of the most important parts of the plan: the speed dating activity, in which partners and companies from Zaragoza joined around six tables sorted by sectors: Social, Mechanics, Logistics, Tourism, Trades and Accounting. The purpose of this activity was to generate an interaction between all these organisations and companies, regardless of the sector they work at. Moreover, we were lucky there were also staff from some of the VET schools we work with: IES Tubalcaín, IES Virgen del Pilar, Centro San Valero, Salesianos Zaragoza, Centro de Formación Izquierdo and Salesianas Zaragoza. Our colleagues from the Spanish organisation Neo Sapiens payed us a visit, too.
After this moment, the second part of the event took place. We gave some awards, called Golden Host Erasmus+, to the companies that host students from all around Europe every year. These companies have been collaborating with Mundus for three or more years. ¡Gracias!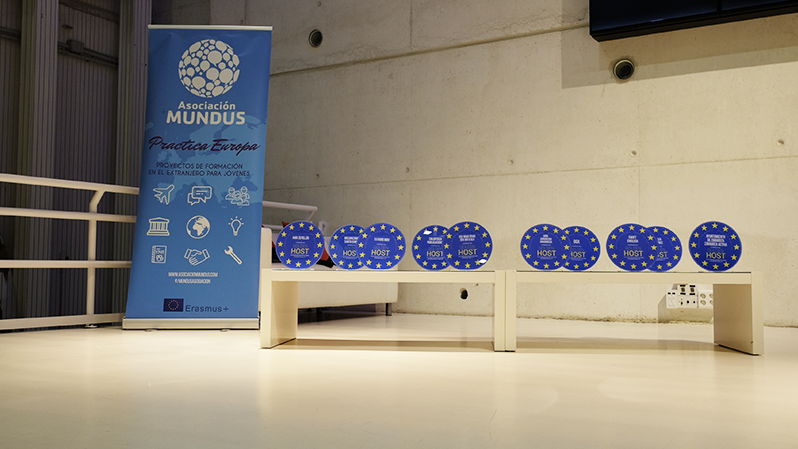 #Bet4Vet 21st November. Golden host Erasmus+ awards.
After this emotional moment, in which the joint work was translated into reality through this awards, we had a surprise for everyone. Quique Miana, Mundus' Co-president, sent us a video-message from the Canary Islands, where we also host students for learning and traineeship purposes. After the online connection with the Canarian paradise, the members of Mundus Zaragoza went up to take a selfie with all the participants, as a memory for everyone.
But, as all good things do, the event came to an end. But in this case, it was a sweet end (well, it was savory actually): Spanish "jamón ibérico", cheese, typical local food, artisan beers and delicious wines were the icing of the cake.
Video about the last part of BET 4 VET at La Azucarera. All credits to Aragón Digital.

22nd November. It is time to go! Our partners started leaving their accommodation by 22nd morning. The companies kept going with their business but having a new award that values their commitment. Mundus' team got a rest to recover and keep doing their best to foster international mobility for learning purposes.
Thanks to Erasmus+ program for giving us the opportunity to live these experiences. Thanks to Zaragoza Activa, Walter Rodríguez, Swift English, OGX, Jara Viveros, DSV, Colortech, Estudio Mov, Mecanizados Santa Isabel y AMA 3.0 for their trust and cooperation from the very beginning. Thanks to Zaragoza Activa for the infrastructure and materials, but also for the affection and kindness. Thanks to all Mundus team for making this possible and amazing.
---